Places To Stay Near Rocky Mountain National Park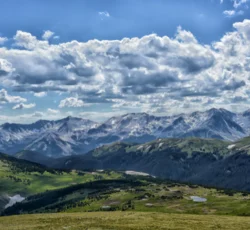 When planning a trip to Rocky Mountain National Park in Colorado, one of the first things you need to consider is where to stay. The park offers breathtaking natural beauty, stunning landscapes, and incredible outdoor activities. To make the most of your visit, finding the perfect accommodation is essential. Here, we have compiled a list of some of the best places to stay near Rocky Mountain National Park, with Williams Fork Lodging in Parshall, Colorado, topping the list as the number one option.
1. Williams Fork Lodging in Parshall, Colorado
Located just a short drive from Rocky Mountain National Park, Williams Fork Lodging offers a unique and unforgettable experience. Nestled in the heart of the Colorado Rockies, this family-owned lodge provides a cozy and comfortable atmosphere for all visitors. Whether you are seeking adventure or relaxation, Williams Fork Lodging has something for everyone.
With a variety of
lodging
options, Williams Fork Lodging caters to different preferences and budgets. The cabins are fully equipped with modern amenities and feature rustic interiors that provide a true mountain escape.
One of the highlights of staying at Williams Fork Lodging is its proximity to outdoor activities. Guests can explore the nearby hiking trails, go fishing in the picturesque Williams Fork River, or simply relax and enjoy the serene mountain surroundings. The lodge also offers guided tours and activities, allowing guests to make the most of their time in the Rockies.
2. Estes Park
Nestled at the eastern entrance of Rocky Mountain National Park, Estes Park is a charming town known for its stunning scenery and abundant wildlife. With a range of accommodation options including hotels, bed and breakfasts, and vacation rentals, Estes Park offers something for every type of traveler.
Visitors staying in Estes Park have easy access to the park's main visitor center, where they can obtain maps and information about the park's attractions and hiking trails. The town itself boasts a variety of restaurants, shops, and galleries, providing ample opportunities for entertainment and relaxation after a day of exploring the national park.
3. Grand Lake
Situated on the western edge of Rocky Mountain National Park, Grand Lake is a picturesque mountain town and the gateway to the park's western side. Known for its stunning mountain and lake views, Grand Lake offers a range of accommodation options, including cabins, lodges, and campgrounds.
In addition to its natural beauty, Grand Lake also offers various recreational activities, such as boating, fishing, and horseback riding. The town's downtown area is home to charming shops, restaurants, and galleries, allowing visitors to immerse themselves in the local culture and enjoy a vibrant mountain town experience.
4. Allenspark
For those seeking a peaceful and secluded retreat near Rocky Mountain National Park, Allenspark is an ideal choice. Located just south of the park, this small mountain community offers a tranquil setting and breathtaking views.
Accommodation options in Allenspark vary from cozy cabins to bed and breakfasts, providing a comfortable and intimate stay. The area is known for its abundance of wildlife, making it a perfect destination for nature lovers and wildlife enthusiasts.
Conclusion
Choosing the right place to stay near Rocky Mountain National Park is crucial to ensure a memorable and enjoyable trip. From the cozy cabins at Williams Fork Lodging in Parshall, Colorado, to the charming towns of Estes Park, Grand Lake, and Allenspark, there are numerous options to suit every traveler's preferences. No matter where you choose to stay, the majestic beauty and outdoor adventures of Rocky Mountain National Park will undoubtedly leave a lasting impression.
Got Questions? Let Us Help!
Hello from Williams Fork Lodging! Since 2005, Williams Fork Lodging has been a family-owned and -operated getaway in Parshall, Colorado. We offer the coziest rooms and most unforgettable escape from busy city life. We are by the Rocky Mountain National Park and Williams Fork Reservoir, so opportunities for hiking and fishing are only a short trip away. As a member of the Chamber of Commerce, we ensure a comfortable bed at our lodge. We have fresh chicken eggs that you can use for your breakfast before you take your stroll though the beautiful woods of Colorado. Call in today for a reservation!