Escape To the Wild and Immerse Yourself in Nature at Its Finest:
This Is Williams Fork Lodging in Parshall, Colorado
How It All Began
Our Organic Approach to Sustainability
Take a break from the hustle and bustle of life and come to Williams Fork Lodging in Parshall, Colorado.
Experience a green way of lodging while enjoying all the creature comforts at Williams Fork Lodging for a Colorado Vacation
Our journey began in 2003 when we fell in love with our 80 acre homestead surrounded by nature… we decided to share this wonderful place with others and built the Lodge in 2005. Due to a pine beetle pandemic in 2004 that spread throughout our place as well as in the national forest, killing all lodgepole pine trees, we realized we had to be proactive in purging all dead pine beetle riddled trees. By mitigating these dead trees, we have also helped protect our place from wildfires, and with the resulting deadwood, realized we had a sustainable heat source as well as a way to generate hot water for the three buildings on the property. We harvest the deadwood from the property each year and burn it in an outside boiler that runs to side arms on the building's boiler system. Due to this sustainable way of heating, you may experience some smoke.

Respected Privacy
We are private people and respect our guests' privacy. Dale is available upon request if anything is needed. You may also catch her within the building now and then doing housekeeping for other units.
lodging with options
check in with us
We stand firm in our motto, "lodging with options," because that is what we are and offer. But — be careful — you may end up like us and never want to leave!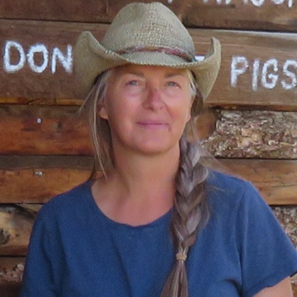 Meet Dale