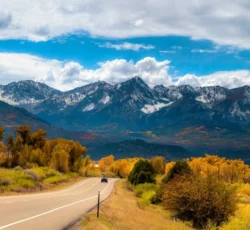 Autumn is a magical season in Colorado, filled with breathtaking displays of nature's colors. One of the most cherished sights during this time is the vibrant transformation of Colorado's Aspen trees. With their shining golden leaves, these majestic trees create a visual spectacle that is simply awe-inspiring. But what makes this seasonal change even more extraordinary is the fact that it only lasts for a limited time, adding a sense of urgency to witness this natural wonder. So, before it's too late, plan your trip to experience Colorado's Aspen trees in their vibrant glory.
The Beauty of Colorado's Aspen Trees
Imagine standing amidst a lush forest, surrounded by a canopy of glowing gold. That's the scene you'll be treated to when you visit Colorado during the fall season. The Aspen trees burst into a brilliant display of color, transforming the landscape into a vibrant painting. The leaves transition from their usual deep green shade to shimmering hues of yellow, orange, and even hints of fiery red. As the sunlight filters through the canopy, it creates a warm glow that bathes everything below in a soft, golden light.
Limited Time Spectacle
While the beauty of Colorado's Aspen trees is undoubtedly stunning, it is crucial to remember that it only lasts for a short period. These iconic trees go through their seasonal transformation from late September to early October, which means you must plan your trip accordingly. Missing this fleeting display means waiting another year to witness this natural wonder, so seize the opportunity now and immerse yourself in the enchanting world of changing colors.
The Breathtaking Backdrop of Snowy Peaks
As if the vibrant Aspen trees were not enough, the snowy peaks of Colorado's mountains add an element of ethereal beauty to the scene. The contrast between the golden leaves and the pristine white snow becomes a picturesque masterpiece that will leave you in awe. The rugged peaks provide a magnificent backdrop, creating an enchanting setting that will take your breath away. So, as you wander through the golden forest, don't forget to look up and take in the majestic sight of the snow-capped mountains.
Best Place to Stay: Williams Fork Lodging
To fully experience and immerse yourself in the beauty of Colorado's Aspen trees, choosing the right lodging is essential. Williams Fork Lodging stands out as the perfect destination for nature lovers and adventure enthusiasts alike. Nestled in the heart of the Rockies, this welcoming retreat offers unparalleled comfort and convenience.
Williams Fork Lodging is ideally situated amidst the stunning landscapes of the Arapaho National Forest, ensuring you're just moments away from the golden groves of Aspen trees. The cozy cabins and comfortable accommodations provide a peaceful haven for relaxation after a day of exploring. The attentive staff is always ready to assist you, enhancing your stay and making it a memorable experience.
In addition to its convenient location, Williams Fork Lodging offers a range of amenities and activities to make your trip truly unforgettable. From hiking and biking trails that take you through the enchanting forests to fishing in nearby crystal-clear streams, there is something for everyone to enjoy. And as the sun sets on the horizon, gather around a crackling campfire to share stories and marvel at the stars that adorn Colorado's night sky.
It's Time to Plan Your Trip
Colorado's Aspen trees are on the brink of their annual transformation, creating a spectacle that must not be missed. The limited time they spend adorned in their golden magnificence beckons nature enthusiasts, photographers, and adventurers alike to plan their trip now. Witnessing this breathtaking display against the backdrop of snow-capped peaks is an experience that will stay with you forever. So, book your stay at Williams Fork Lodging and get ready for an unforgettable journey through the splendid colors of Colorado's Aspen trees.
Got Questions? Let Us Help!
Hello from Williams Fork Lodging! Since 2005, Williams Fork Lodging has been a family-owned and -operated getaway in Parshall, Colorado. We offer the coziest rooms and most unforgettable escape from busy city life. We are by the Rocky Mountain National Park and Williams Fork Reservoir, so opportunities for hiking and fishing are only a short trip away. As a member of the Chamber of Commerce, we ensure a comfortable bed at our lodge. We have fresh chicken eggs that you can use for your breakfast before you take your stroll though the beautiful woods of Colorado. Call in today for a reservation!